Description
Rremium 1X RaceFace direct-mount Oval chainrings designed for CINCH BOOST 148 system RaceFace cranks. Remove your current spider and mount this chainring directly to the crank. If you have 4 arm/non removable spider RaceFace crank, use 104bcd oval ring.
| | |
| --- | --- |
| Size (Mass +/-1g): | 26T (52g), 28T (54g), 30T (58g), 32T (62g), 34 (69g) |
| Color | Black, Cannondale Green, Red |
| Compatibility | RaceFace Cinch system cranks. RF Next SL, RF SIXC, RF Turbine, RF Atlas, AEFFECT CINCH cranks. Also fits Boost148 cranks/frames |
| Material | CNC machined 7075 Txxx Aluminum. |
| Finish | type II anodizing |
| Chainline | 49.9mm |
| Ovality | Optimized per individual chainring size. Range: 10.2-14.4% and Timing of 110.5-116.3å¡ after TDC (top dead center) Patent Pending |
Advantages of our direct-mount oval chainrings:
Finest design to provide excellent strength to weight ratio
Patent-Pending oval shape
Unique Patent Pending narrow-wide tooth profiles to keep your chain in place even in aggressive conditions
Special 3D teeth machining for ultimate mud relief, decreased wear and noise
Designed to handle the rigors of mud and grass
Lower weight by reducing the need for a spider and chainring bolts
Superb quality and look.
Riders will not "feel" the oval shape
Improves traction and climbing abilities
Reduces knee stress
You will not "feel" the oval shape at all
Reduces stress on knees
HOW TO MOUNT RACEFACE CINCH OVAL CHAINRING:
The chainring has a mark on the backside that you need to line up with the center of the crank arm to achieve the main/recommended position. Once this is done use BB key to lock the lockring. If you wish to try more aggressive setup, rotate the chainring from main position clockwise by one notch on the splines. This will rotate oval by further 22deg. We do Not recommend second position for beginners. Before you start experimenting with the clocking of the ring, make sure you ridden minimum 5 months in the main position first.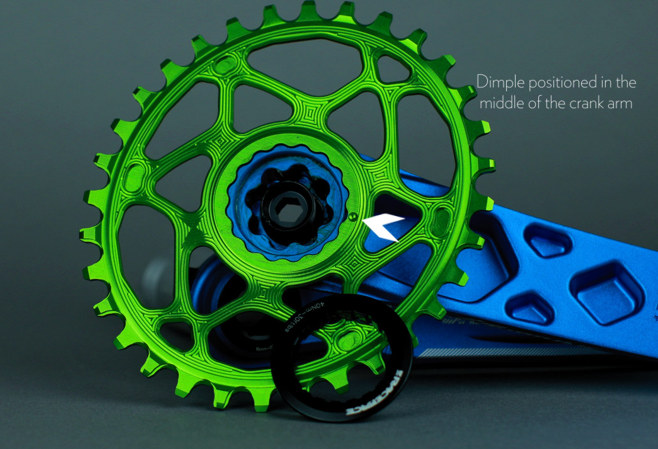 HOW TO MOUNT RACEFACE CINCH OVAL CHAINRING ON FAT BIKE:
On Fat Bikes using 26 or 28T chainrings, it is necessary to reverse the chainring dish. 26 and 28T chainring has a double-dimple mark on the front that you need to line up with the center of the crank arm to achieve proper position. All other steps are same to the instruction above.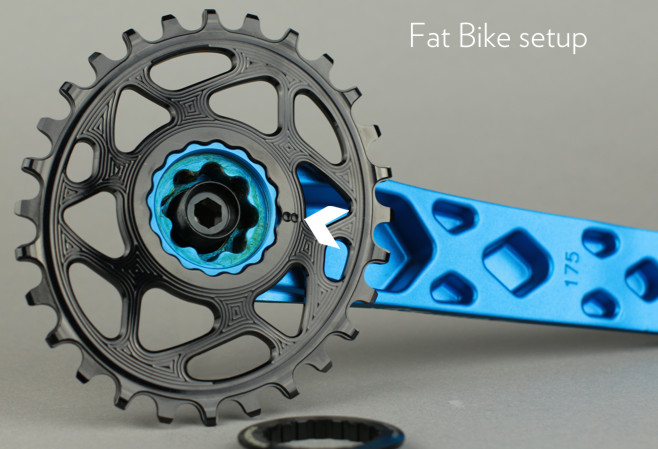 OPTIMUM CHAINRING ADJUSTMENT (OCA):
Our main/recommended clocking position is a fantastic setup for everyone. However some more seasoned riders may like a bit more aggressive clocking position. RaceFace oval chainring allows you to change clocking position by 22deg both ways from initial setup. This is the only chainring in our line offering this adjustability.
It is ideal for 1x 9/10/11/12 system and Singlespeeds!. Oval (elliptical) chainring does not compromise the work of clutch mechanism in rear derailleur(video at the bottom). It also does not require chain tensioner when using in Singlespeed application. It is the most advanced oval chainring currently on the market.
The most advanced, Patent Pending narrow/wide tooth profile on the Market guarantee minimum 12 months of excellent chain retention capabilities! We mean it. Always use a new chain with a new chainring.
| | |
| --- | --- |
| Chain options | 10, 11 or 12spd chain for geared bike or 6-9 spd for SS. If used in 1x9 drivetrain - 10spd chain must be used to obtain the performance. (yes - 10spd chain will work great on 9spd cassette) |
| Chainguide needed? | No. But if you want one then chain guide should have 2 teeth more capacity than nominal oval ring size. |
Designed in UK. Manufactured in Poland (EU).
PRESS REVIEVS:
PINKBIKE Review - Oval Chainring for Race Face Cinch
Bikerumor - ovalized Race Face Cinch direct mount narrow/wide chainring
RaceFace is trademark of RaceFace corporation
The World's lightest oval (elliptical) RaceFace spiderless traction chainring - period!. Non circular chainrings, Non-round chainrings. Asymmetrical chainrings. Traction chainring.
Payment & Security
Your payment information is processed securely. We do not store credit card details nor have access to your credit card information.